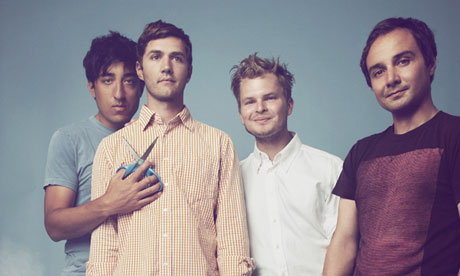 Esses últimos meses foi marcado por bandas que já eram cartas certas na manga, alguns muito bem sucedidos, como Dinosaur Jr, Bob Dylan outros nem tanto assim, como Band Of Horses e um em especial, completamente fracassado, como Muse. Já estava mais do que na hora de aparecer uma surpresa daquela de tirar o fôlego. E é com esse cenário que ouvi pela primeira vez a banda Grizzly Bear, mais precisamente o seu álbum mais recente, lançado há algumas semanas, Shields, que na verdade é o quinto álbum desse grupo nova-iorquino, que iniciou a carreira em 2004, no Brooklyn, com a junção do experimentalista Edward Droste e o eclético multi instrumentista Christopher Bear, o que resultou no lançamento do disco de estréia, Horn of Plenty. De 2004 pra cá, foram mais três álbuns muito bem aclamados pela crítica e pelos fãs, em especial Yellow House, de 2006. Mas é em Shields que eles realmente atingem o máximo da potencialidade criativa, expondo belíssimas construções sonoras, impecavelmente arranjadas e com diversas texturas. Cada faixa dá uma impressão de imensa profundidade, sempre deixando algo ainda por explorar. Mas vou deixar de tentar teorizar de forma totalmente incompetente, e vamos falar das músicas em si.
A faixa de abertura já apresenta um dos grandes trunfos de Shields. Praticamente tudo o que há de melhor nos próximos quarenta e sete minutos e cinqüenta e cinco segundos está contido em "Sleeping Ute", simplesmente genial. Dá para notar uma característica especial nessa faixa e em várias outras. Eles gostam de ficar repetindo uma mesma estrutura da música, mas em cada repetição, eles acrescentam novos arranjos, um detalhe aqui que não havia há cinco segundos e que dá toda uma nova moldura àquele mesmo trecho. Há uma riqueza de sons aqui que não se desvenda rapidamente, é o melhor tipo de convite que diz: "olha, me escuta de novo, vai valer a pena". A faixa seguinte, a igualmente maravilhosa "Speaking In Rounds", em alguns momentos, chega a lembrar algumas músicas de Arcade Fire. As letras também tem momentos bem profundos, como "But what makes each step worth the time and regret still shows" ou "Come get what's lost, what's left before it's gone".
Após uma experimentação instrumental de um minuto, chega a vez do primeiro single de Shields, "Yet Again", que pode não ser a melhor, mas não deixa dúvidas do porque ela foi a escolhida como single, mais nos moldes tradicionais. O belo clipe,dirigido por Emily Kai Bock, mostra a jornada de uma garota patinando no gelo, totalmente no escuro, quando, de repente, o gelo se quebra e ela cai na água, mas emerge numa floresta e então começa sua viagem através de cidades do subúrbio, até a sua casa. "The Hunt" é bem calma e com uma melodia muito bonita, acompanhada em grande parte apenas pelo piano e uma percussão bem tímida.
"A Simple Answer" é outra grande música, muito intensa, com o vocal carregando grandes doses emocionais. Não adianta destacar novamente os arranjos geniais, né? E a parte final da música é simplesmente divina e a lição que eles deixam aqui parece simples: "No wrong or right Just do whatever you like". Depois de uma calma e não tão notável "What's Wrong", "Gun-Shy" deixa o negócio bem interessante novamente, principalmente pelo recurso de justa posição das vozes, ficando muito bonito quando misturado com a bela melodia do refrão. A partir daqui, com "Half Gate" o clima vai se preparando para o grand finale, o que culmina, claro, com a divina "Sun In Your Eyes", a mais longa do disco, com seus sete minutos preenchidos com o contato quase transcendental da música através de mais uma letra perfeita.
E assim que o surpreendente Shields, de Grizzly Bear, chega ao seu final, com seus vários momentos de destaque que fazem dele um dos melhores álbuns do ano.