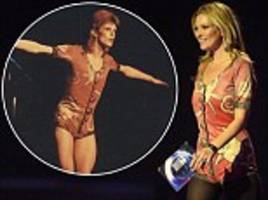 Ontem, 19 de fevereiro, foi noite de gala para a música britânica, com a cerimônia do Brit Awards, destinada, especialmente, aos artistas que mais fizeram sucesso em solo britânico no ano passado. A cerimônia foi marcada pela apresentação ao vivo da banda Arctic Monkeys, que levou pra casa o prêmio de melhor álbum do ano, com AM, tocando "R U Mine", presente no disco premiado. Como não podia ser diferente, David Bowie também chamou atenção ao ser premiado como o melhor artista solo masculino, como já era de se esperar, levando em consideração o ano de 2013 e de ser um prêmio britânico. Mas o que realmente chamou a atenção foi o recebimento do Brit, que foi entregue a Kate Moss, vestida com a roupa original vestida por Ziggy, já que Bowie não estava presente na cerimônia. Mas no discurso de agradecimento enviado por Bowie e lido por Kate Moss, houve uma polêmica que ainda está rendendo nas redes sociais. Tudo isso porque, ao final do discurso, Bowie faz um pedido: "Scotland, please stay with us". Contextualizando, essa frase vem num momento bastante decisivo na corrida para o plebiscito, marcado para o segundo semestre do ano, que irá decidir o destino da Escócia, ou seja, se permanece com o Reino Unido ou se conquista a independência total. Foi o bastante para surgir uma enxurrada de críticas, algumas bem duras, sobre a frase de Bowie, afirmando que ele não tinha o direito de se meter nesse assunto, já que é morador de Nova Iorque e não paga impostos na Escócia. Alguns até disseram: "fuck off back to Mars". Quando o assunto é política, pode ser a celebridade que for, é melhor ficar de fora. Ou não.
Polêmicas à parte, fique com a apresentação de
"R U Mine"
, de Arctic Monkeys.
Confira a lista dos vencedores da noite:
Vencedores:
Melhor artista solo masculino internacional: Bruno Mars
Melhor artista solo feminino: Ellie Goulding
Revelação: Bastille
Melhor grupo: Arctic Monkeys
Sucesso global (prêmio especial): One Direction
Melhor single: Rudimental e Ella Eyre - "Waiting all night"
Melhor artista solo masculino: David Bowie
Melhor vídeo: One Direction - "Best Song Ever"
Melhor álbum do ano: Arctic Monkeys - "AM"
Melhor artista solo feminino internacional: Lorde
Melhor grupo internacional: Daft Punk