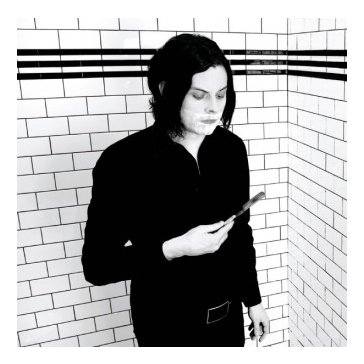 The White Stripes, uma das maiores bandas de rock dos últimos anos, anunciou o seu fim no início de 2011, mas, de fato, não tínhamos músicas fresquinhas e inéditas da dupla Jack e Meg desde 2007, com Icky Thump. Desde então Jack trabalhou muito, sem contar a longa turnê com Meg, que resultou no DVD Under Great White Northern Lights, em 2010, Jack tomou um caminho muito prolífico, sendo desde produtor, executivo, até membro de duas bandas, The Raconteurs e The Dead Weather. Tudo isso mostrava uma natural tendência para expandir a força criativa, que ficava um tanto limitada apenas com Meg como banda de apoio. O problema é que sempre pareceu que essa limitação fazia bem a Jack e suas excêntricas inspirações. Nenhum trabalho paralelo chegou a equiparar com os Stripes. Enfim, em 2011 aconteceu o que o inevitável, a banda se separou e, após algumas participações em projetos sinistros, cheguei a temer o pior em relação a um dos maiores compositores dessa geração, Jack White. Com o anuncio de Blunderbuss, primeiro álbum solo de Jack, a grande prova estava lançada. Caramba, e como ele passou! A fineza do trabalho já começa pela capa, com uma foto de Jack com uma ave de rapina pousada nos ombros. Imagem bonita, sombria e poética.
Ao mesmo tempo em que se conhece o trabalho de Jack de muito tempo, a primeira audição de Blunderbuss é tomada por uma sensação nova e inesperada. A voz é a mesma, o jeito de cantar é o mesmo. Ainda assim, parece que Jack está totalmente revigorado, renovado e à vontade com essa liberdade criativa, finalmente! Os arranjos, as variações musicais, os diversos estilos presentes no álbum, que vão desde o clássico Stripes, até rock dos anos 50 e folk, são coisas que seria impossível alcançar com o White Stripes. E parece que é exatamente essa a impressão que Jack quer que o ouvinte tenha logo de cara, com
"Missing Pieces"
, ao mesmo tempo tão familiar e nova que chega a ser intrigante.
"Sixteen Saltlines"
é o momento lapada de Blunderbuss, inclusive com o solo de tirar o fôlego no final, enquanto a banda completa acompanha o ritmo. Inclusive, para Blunderbuss, Jack dispõe de duas bandas, uma formada totalmente por mulheres e outra por homens. Na turnê, ele irá dividir os set entre as duas bandas. Começa
"Freedom at 21"
com um sinistro ritmo de bateria, enquanto a música vai aumentando até explodir em outro solo em várias dimensões.
Jack desliga um pouco a guitarra agora para uma bela sequência,
"Love Interruption"
, linda, delicada e com ótima letra,
"I want love to, roll me over slowly / Stick a knife inside me and twist it all around".
Depois passa para a faixa título
"Blunderbuss"
, típica balada no piano, mas aqui entra até solos de violino voando pela música. Jack é conhecido por ser um guitar-hero, mas as faixas no piano aqui são irretocáveis, como o mostra
"Hypocritical Kiss"
. Já
"Weep Themselves to Sleep"
é uma das composições mais complexas de Jack, cheio de variações e viradas. Enquanto até a metade o grande destaque continua sendo o piano, do meio pro fim dá pra ouvir a guitarra sendo ligada e, a partir daí ela toma conta. Num momento até fica disputando quem está mais no controle. Não importa a forma, é sempre Jack.
"I'm Shakin"
é um divertidíssimo e dançante rock dos anos 50, com um riffzinho gostoso. Dá até para enxugar as costas com a toalha, com vários backing vocals gospel. Sensacional como um compositor muda tão facilmente de estilo.
"Trash Tongue Talker
", um dos inúmeros destaques do álbum, mantém o clima nostálgico e vai crescendo cada vez mais no seu decorrer. Já
"Hip (Eponymous) Poor Boy"
é bem divertida, com ritmo pra cima, animado. Um trecho da letra de
"On and On and On"
parece demonstrar o momento artístico no qual Jack White se encontra:
"The people around me/ Won't let me become what I need to/ They want me the same/ I look at myself and I want to/ Just cover my eyes and/Give myself a new name".
"Take Me With You When You Go"
é outra a tomar caminhos inesperados e estranhos que apenas fechamos os olhos e deixamos Jack nos guiar. Também contém participações especiais femininas, inclusive da sua recente ex-esposa Karen Elson, às vezes todos dão a cantar na mesma hora que mal dá pra identificar, é quase como uma festa.
Blunderbuss é o resultado de um grande compositor inspirado e motivado com sua música. Melhor material que Jack lançou desde o clássico Elephant, dos Stripes, em 2003. Um álbum para ficar ouvindo repetidamente.