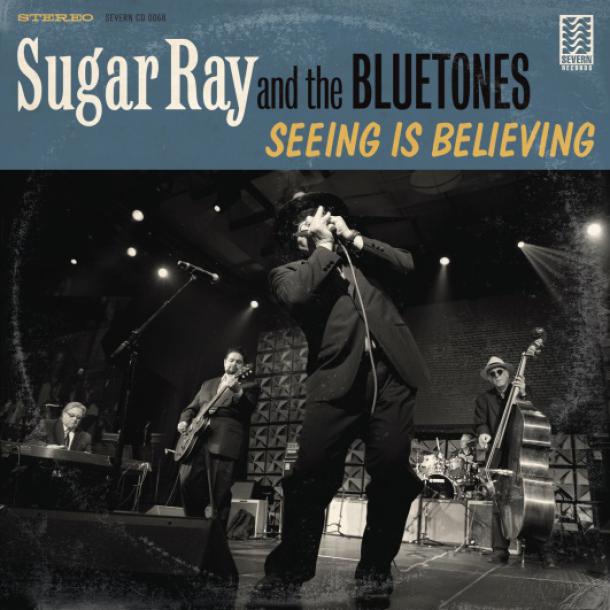 O que esperar de uma banda que tem o guitarrista, "Monster" Mike Welch, um dos nomes mais respeitados do cenários blues da atualidade na guitarra, Anthony Geraci no piano, que foi indicado ao Blues Music Award e Blues Blast Award no ano passado pelo seu álbum, Fifthy Shades of Blue, além do baixista Mudcat Ward e o baterista Neil Gouvin, cada um que já teve sua indicação também? Para liderar a tropa, o cantor e gaitista Sugar Ray Norcia. Eis a banda Sugar Ray & The Bluetones, com mais de 35 anos de estrada, sete vezes indicada em 2014 com o disco Living Tear To Tear para o Blues Music Award. Se contarmos as indicações individuais de cada membro, chegamos ao total de 26 indicações para Blues Music Awards e 7 indicações para Grammy. É com essa bagagem e com uma química dificilmente vista entre os integrantes da banda, que Sugar Ray & The Bluetones lançam mais um novo álbum, Seeing Is Believing, que tem tudo para repetir o sucesso do seu antecessor. Isso porque a banda repete a estratégia de gravar praticamente ao vivo, mostrando toda a dinâmica e interação que eles tem ao vivo.
O próprio Sugar Ray falou recentemente que eles são "quase telepáticos no jeito que trabalham um com o outro".
Outra coisa que a banda se destaca é a vontade criativa e autoral para manter o blues seguindo seu curso com novas músicas, novos clássicos, etc. Por isso, das 12 faixas de Seeing Is Believing, 11 são músicas autorais, totalmente colaborativa entre os membros da banda, e apenas uma, "You Know I Love You", cover de B.B. King, que se torna instrumental e espaço completo para Mike Welch bilhar com solos incríveis de guitarra. Dentre as onze originais, uma variedade interessante que vai do Mississippi blues para o jazz blues com uma naturalidade incrível, que revisa os estilos que vão de Muddy Waters, Otis Span, Little Walter e Louis Armstrong.
Os primeiros acordes do disco vêm da gaita. O álbum inicia de forma fulminante com a faixa de abertura,
"Sweet Baby",
um ótimo blues típico de Mississippi. E não tem essa de separar o momento em que cada um vai brilhar, ou seja, se é a hora de um solo de guitarra, os outros ficam quietos só deixando a guitarra falar. Nada disso, aqui estão sempre juntos, ora de forma mais latente, ora menos. Mas sempre todos estão contribuindo. Dá, por exemplo, para ouvir o piano de Anthony Geraci lá trás mesmo enquanto Norcia está cantando, num solo de gaita, ou num solo de guitarra de Welch. Isso faz com que a cada audição do disco, notamos algo que não havíamos notado anteriormente. A faixa seguinte, que dá título ao álbum, vem de uma forma mais lenta, reflexiva e sofrida, Norcia nos diz que às vezes mesmo vendo é difícil de acreditar.
"They say seeing is believing / baby i can't believe what you're doing /

All your mean and evil ways / yes, and all the lives you ruin".
Mike Welch deixando sua marca aqui novamente, num belíssimo solo.
"Noontime Bell
" é um shuffle daquele tipo de despedida decidida, que tem que acontecer hoje mesmo, antes do meio dia. Norcia diz "
I'im going to leave you this morning, before that noontime bell / i tried to Love you baby, but all I can do is wish you well"
.
"
Keep On Sailing
" é sem dúvida umas das melhores do disco e, como ele mesmo diz na introdução, fala sobre a jornada da vida. Ela começa com Norcia cantando sobre continuar andando até conseguir atingir seu objetivo, acompanhado apenas de sua gaita.
"I'm gonna keep on sailing, till I get where i'm going. Well, it doesn't matter much to me, long as the wind keeps blowin'".
Em seguida a banda toda se junta a Norcia. E quando digo que a banda toda se junta é a pura verdade, com piano, guitarra, gaita, tudo brilhando ao mesmo tempo. Blues da melhor qualidade.
"Blind Date"
o negócio fica divertido novamente, daquelas pra dançar na noite. Sabe aquele encontro às cegas que não deu certo, não teve nenhuma ligação, atração, daquelas que você faz questão de esquecer até o rosto da pessoa e tudo mais, mas mesmo assim não vale a pena ir embora e perder a diversão? É exatamente o que fala a letra e, pois bem, a diversão, no caso, é a própria música.
"Misses Blues"
, por sua vez, é o momento do disco que o blues encontra-se com o jazz e fazem uma salada genial, de humor, amor e segundas intenções.
"It Ain't Funny"
é bastante intensa e Norcia canta quase com indignação.
"It ain't funny what you did to me baby – I ain't laughing now! – It ain't funny what you did to me, but you know, what the funny thing is to me, little girl, I still can't get you off of my mind".
Dá pra sentir a raiva com que Norcia canta a letra. Musicalmente não poderia ser de outra forma: impecável, cheia de alternância de solos, o que contribui para ela ser a mais longa do disco, ultrapassando a marca dos seis minutos de puro blues.
"Not Me"
, por sua vez, é aquela ressaca emocional da madrugada, tomando um uísque sozinho no quarto escuro, fitando a janela e cantarolando um blues – e com um belíssimo solo de gaita pra acompanhar. O disco vai encaminhando para o final com mais três faixas,
"Got A Girl"
, que Norcia canta com a voz um pouco distorcida e uma base de guitarra mais pesada, sobre uma garota que é muito ruim para ele; as curtas "
Two Hundred Dollars Long
", em que predomina os solos de gaita, e "
It's Been A Long Time".
Com o que Sugar Ray & The Bluetones atingem em Seeing Is Believing, através de um blues original, cheio de personalidade e talento, uma coisa fica como certa: o número de indicações – tanto da banda quanto dos membros individuais - para os maiores prêmios do blues com certeza deverá ser atualizado em breve.