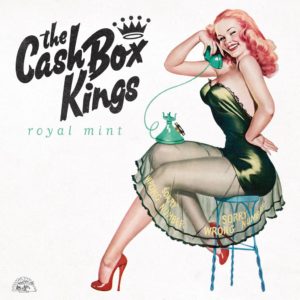 The Cash Box Kings é uma banda colaborativa por essência. Criada em 2001 pelo gaitista, cantor e compositor Joe Nosek, foi em 2007 que o grupo recebeu mais um membro fixo, o vocalista Oscar Wilson, que contribuiu para o salto de qualidade na sonoridade da banda. Os demais membros são flexíveis, dependendo do talento e da direção que aqueles que estão envolvidos queiram seguir. Para o novo trabalho da banda, Royal Mint, tantos talentos e experiências diferentes alcançaram uma ótima síntese do blues, resgatando elementos do Chicago blues de Muddy Waters, Jimmy Reed, principalmente, mas flertando em momentos diferentes com o Piedmont blues, country blues e Delta blues, transitando naturalmente do tradicional para o novo, e vice-versa.
Os destaques de Royal Mint são vários, começando pela própria regularidade durante todo o disco, mantendo a pegada sem cair no desinteresse, na mesmice ou com fusões sonoras confusas e desnecessárias para, a priori, alcançar um público maior. Sem dúvida, e sem desmerecer os demais, as faixas que contam com Wilson nos vocais se destacam pelo vigor que os cantores de blues normalmente tem. Depois de um início empolgante com os boogies "House Party", de Amos Milburn, e o clássico "I'm Gonna Get My Baby", de Jimmy Reed, Oscar Wilson capricha demais na versão de "Flood", de Muddy Waters. Na verdade, Wilson soa como uma encarnação de Waters. Um slow blues sensacional, mérito também de uma ótima banda de apoio. Mas não é somente nas regravações que The Cash Box Kings faz um grande trabalho. A faixa seguinte é a original "Build That Wall", na qual o grupo destila ironia sobre a decisão do governo Trump de construir o muro e fala umas verdades, digamos assim, incômodas. A letra diz: "Go on build that wall/ mistreat people with brown skin but most of all: you can ignore what Jesus said /you know the poor are better off dead. /come on now USA let's build that wall."
A faixa seguinte, "Blues for Chi-Raq", em uma encarnação agora de Albert King, também aborda uma problemática atual: o aumento da violência, principalmente por armas de fogo, especificamente nos bairros em Chicago. Mais uma vez a banda faz um trabalho incrível na regravação do clássico de Robert Johnson, "Travelin' Riverside Blues". Em seguida, o grupo toca numa questão que com certeza já foi problema para muita gente nesse mundo de relações virtuais em que vivemos. "If You Got a Jealous Woman, Facebook Ain't Your Friend". O título é autoexplicativo. A parte final do disco nos reserva ainda ótimos momentos, além de mais regravações, como "Sugar Sweet" e "All Night Long", conta ainda com "I Come All The Way From Chi-Town", focado no estilo Piedmont blues de Sonny Terry e a divertida "Don't Let Life Tether You", com um dançante solo introdutório de gaita.
Contando com regravações poderosíssimas e canções originais relevantes de quem vive o tempo presente, executadas por integrantes que conhecem profundamente os diferentes estilos do blues, The Cash Box Kings reafirmam a relevância do blues para a cena musical contemporânea. De fato, é como o próprio Oscar Wilson descreveu o disco: "um retorno à era dourada do blues.