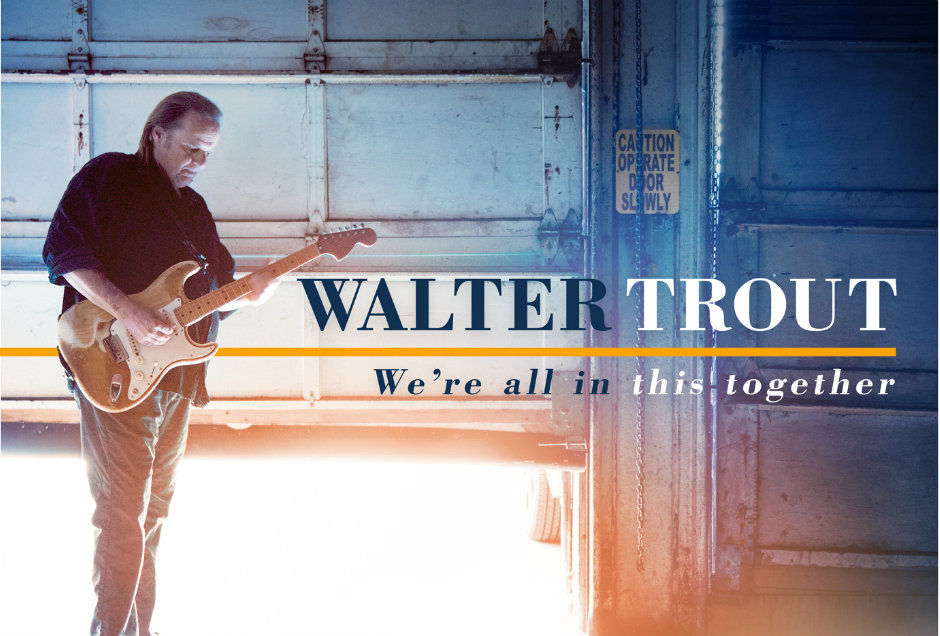 Depois da tempestade, a bonança. Essa frase não poderia ser melhor aplicada do que o caso do guitarrista de blues Walter Trout. A recuperação do corpo não é o bastante quando a ferida atinge o âmago mais escuro da alma. Totalmente recuperado fisicamente de um longo drama de saúde, Trout tratou de curar sua alma e exorcizou seus demônios com o emocionante – e sofrido – disco Battle Scars, de 2015. Agora, dois anos depois, com a vida salva, a carreira retomada e saindo em turnê novamente, Walter Trout está aproveitando cada segundo do tempo que conseguiu garantir. Quando estamos felizes, queremos compartilhar essa felicidade; chamamos os amigos e fazemos aquela festa. O seu novo disco, We're All In This Together, é exatamente essa festa que Trout andou preparando com seus amigos (baitas amigos!"). O álbum tem quatorze faixas, cada uma com um convidado especial acompanhando Trout, que compôs as faixas já pensando nos artistas que iriam acompanhá-lo. Assim, ele tomou o cuidado de chamar figuras versáteis dentro do universo do blues e do blues-rock, o que dá ao disco uma dinâmica bastante saudável. Trout conseguiu capturar a alma e a essência tanto do estilo quanto do convidado. Mas, afinal, quem são esses convidados? Vejamos: Kenny Wayne Shepherd, Sonny Landreth, Charlie Musselwhite, Mike Zito, Robben Ford, Warren Haynes, Eric Gales, Edgar Winter, Joe Louis Walker, John Nemeth, Jon Trout (filho de Walter), Randy Bachman, John Mayall e Joe Bonamassa. Só isso, simplesmente os melhores do gênero blues-rock.
Devido a isso, We're In This Together tem de tudo, começando com aquelas clássicas dirigidas principalmente pela guitarra, como a faixa de abertura, "Gonna Hurt Like Hell", com Kenny Wayne Shepherd, "Crash and Burn", com Joe Louis Walker e "Got Nothin' Left", com Randy Machman, nas quais a aceleração é mantida sempre com ótimos solos de guitarra, além do mestre do slide zydeco, Sonny Landreth e a instrumental "Mr. Davis", com Robben Ford. Mas também tem gaita suficiente aqui, como "The Other Side of The Pillow", com o mestre da gaita Charlie Musselwhite, que também pega emprestado os vocais em um dueto trágico-cômico sobre mais uma das inúmeras histórias de traição no blues. John Mayall também traz sua gaita para a incrível "Blues For Jimmy T.", um delta blues somente com Trout no violão e Mayall na gaita. Sensacional. Outra em que a gaita divide as atenções com a guitarra é "Too Much To Carry", com John Nemeth, um Chicago blues empolgante.
No disco também tem aquelas que transitam mais para o rock e pop, com um som mais acessível e radiofônico, como "She Listens to The Blackbird Sing", com Mike Zito, ou "She Steals My Heart Away", com um toque meio soul de Edgar Winter e um pouco do funky blues de Eric Gales em "Somebody Goin' Down". Diante de um time de joias como esse, Walter Trout faz anda o trabalho de casa, com seu filho Jon, na faixa "Do You Still See Me At All", com um ritmo bem dançante. Como se não bastasse, tem uma versão incrível da clássica "The Sky Is Crying", com Warren Haynes. Para terminar com chave de ouro, Water Trout se une a Joe Bonamassa, os dois maiores representantes do blues-rock na atualidade e nos entregam o suprassumo do estilo: a faixa que dá título ao álbum "We're All In This Together", quase oito minutos com o melhor que o gênero blues-rock tem a oferecer.
We're All In This Together torna-se assim, além de um favoritos para o melhor disco do ano, uma obra-prima do gênero blues-rock e coloca Walter Trout como seu maior representante e compositor. O mais legal é que essas posições de nada importam: ele consegue essa proeza num disco colaborativo em que os egos de cada um dos convidados – e o dele próprio – são deixados de lado e o que transparece é realmente a única coisa que importa de verdade: o amor pela música.