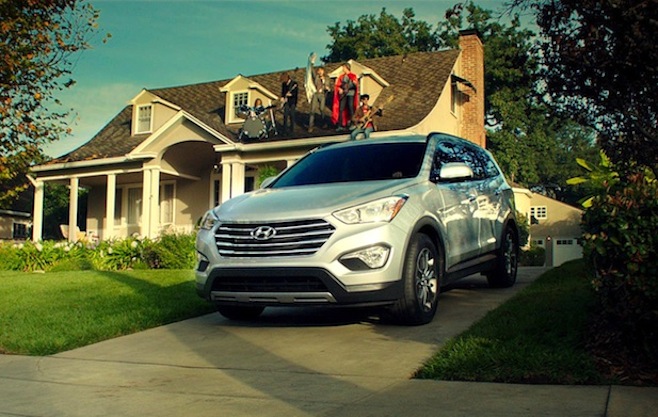 O post anterior dizia que no dia 29 de janeiro Flaming Lips iria lançar a faixa "Sun Blows Up Today", que será incluída como bônus track para as pré-vendas do novo álbum, The Terror. Além disso ainda fará parte de um comercial de carro. Isso mesmo, "Sun Blows Up Today" aparecerá no comercial do Sante Fe SUV, da Hyundai, durante o grande Super Bowl. O comercial será de sessenta segundos. Wayne sempre aparecendo com coisas surreais. Para se ter uma idéia da dimensão da coisa, segundo a Billboard, os anunciantes estão pagando mais de 3,7 milhões de dólares para um lugarzinho durante o grande jogo. Steve Shannon, do marketing da Hyundai, tentou explicar a escolha de Flaming Lips para o comercial, que veio de uma pequena lista de possíveis bandas. O nome de Flaming Lips, que já estava nessa lista, cresceu no momento que a banda disse que estavam organizando o lançamento de um novo disco. "Os Flaming Lips são bem parecidos com a Hyundai, eles são um pouco fora do tempo. Eles estão na ativa por muito tempo e continuam se reinventando", disse Shannon. Bem, isso é verdade.
Enfim, mesmo programada para o dia 29, a banda lançou pelo seu canal do youtube um vídeo com a letra de "Sun Blows Up Today". A música é bem agitada e inconstante e dá para imaginar que é o primeiro minuto que será utilizado para o comercial, a tirar pela letra. O vídeo é bem psicodelicamente colorido, como era de se esperar. De acordo com as palavras de Wayne, as músicas de The Terror devem ser com um clima bem diferente. Confira abaixo o vídeo de "Sun Blows Up Today".
À título de curiosidade, Flaming Lips já fez um comercial para carros antes, em 2004, quando usaram "Do You Realize?" para a campanha comercial da Mitsubishi.