O segundo dia do Lolla começou com uma surpresa. Eu já estava um pouco decepcionado achando que iria perder dois shows que estava ansioso para ver. Mas, quando começou a transmissão, Gary Clark Jr estava começando a tocar no palco alternativo no canal Bis para meu alívio e felicidade. A surpresa só me deixou desfalcado de cerveja, que tinha programado para ir comprar só mais tarde, mas enfim. Gary Clark Jr já começou dando o seu melhor do blues, com sua melhor música, "When My Train Pulls in", acompanhada pelos seus épicos solos de guitarra, empolgante do início ao fim. O público desde o início parecia absorvido pelo som. Sensacional. Até agora só com a primeira música, Gary Clark Jr já tinha dado a melhor apresentação do festival. O show seguiu animado e com bastante energia, principalmente pela magia com que Clark Jr toca sua guitarra, é um espetáculo à parte, habilidade técnica impressionante, emoção e performance. Tudo isso conquistou de cara o público. Não é à toa que às vezes ele é chamado de Jimi Hendrix contemporâneo. Depois de duas na porrada, Gary Clark Jr mostrou seu lado mais delicado, com uma balada simplesmente linda. Depois de mais uma rápida, ele paga magistralmente seu tributo a Jimi Hendrix, com "Third Stone From The Sun / You Love Like You Say". A Jam que ele faz entre as música é ainda mais incrível do que a presente no álbum Black and Blu, Depois ele emenda com outra épica faixa do disco, "Numb", para quem achava que era impossível viajar ainda mais na guitarra e no blues. Na sequência, mandou mais uma bem forte, "Ain't Messin Around", com uma tag de "Satisfation", dos Stones. Então, ele resolve abaixar o ritmo e mandar outra balada irresistível a soul "Black and Blu", misturando-a com "Bright Lights".
O show de Gary Clark Jr. é exatamente o que se espera de um ótimo artista iniciante a fim de conquistar novos públicos. Quem já conhecia, certamente virou ainda mais fã. E quem não conhecia, com certeza ficou marcado pela apresentação e chegará em casa para pesquisar quem, afinal, é Gary Clark Jr. O segundo grande show da noite veio também do palco alternativo, com Alabama Shakes fazendo jus à posição de destaque que conquistaram com o disco de estreia, Boys & Girls. Brittany Howard veio vestida como que para uma premiação, com uma escova boa no cabelo e abrindo com o primeiro hit do grupo "Hold On". A voz dela está em ótima forma, assim como sua presença de palco. O repertório, como não poderia ser o contrário, foi todo baseado no sucesso de Boys & Girls, tocando suas músicas de maiores sucessos, como "Rise to The Sun", "Heartbreaker", "Be Mine", esta última com Brittany libertando-se da guitarra e se soltando mais no palco. Também teve, claro, a melhor música da banda, "You Ain't Alone", com mais um show de Brittany. Fico aqui devendo os vídeos de ambos os shows, na esperança de que alguma alma boa tenha gravado a transmissão do Multishow e coloque disponível no youtube.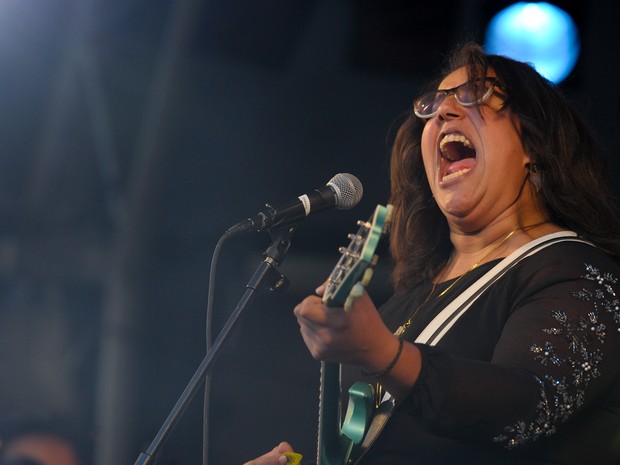 Como Alabama Shakes foi na mesma hora que Franz Ferdinand, só deu para conferir os minutos finais, com o empolgante clássico "This Fire". Finalmente estava chegando os dois grandes shows do festival, começando por Queens Of The Stone Age. No palco, tudo o que faz dessa uma das maiores bandas da atualidade, com um setlist praticamente perfeito, com todos os clássicos que a gente pode querer, do início, com "The Lost Art of Keeping A Secret", do clássico Rated R, passando por "No One Knows", outro grande hit, dessa vez de Songs for The Deaf, álbum que teve a participação de Dave Ghrol, que também está presente no novo disco da banda. Falando no novo álbum, que sai no meio do ano, entre a contagiante empolgação do público com clássicos, teve tempo para a estreia de uma nova faixa "My God Is The Sun". Em algumas músicas do Songs For The Deaf, a gente sente muita falta do grande vocal de Mark Lanegan, principalmente em "Hangin' Tree". A sequencia final matadora de "Do It Again", "Go With The Flow" e "A Song for The Dead" cravaram o show como memorável. Contando com as três apresentações que QOTSA já fez no Brasil, no Rock In Rio 2001, com a banda aparecendo pela primeira vez e Nick peladão, no SWU de 2011, já consolidada e com moral no cenário musical e esse show no Lollapalooza, certamente este último foi a mais completa performance, em termos de música e banda.
Eu diria que pela história, Queens of The Stone Age mereceria fechar a noite de sábado do Lollapalooza. Mas a partir do momento que The Black Keys entra no palco, a reação do público mostra o porque da escolha deles como atração principal do dia. O sucesso de El Camino foi incrível e a plateia cantando todas as músicas até ficar sem fôlego completam a transição que a banda teve do garage dos primeiros anos para o mainstream. Performance de uma banda totalmente amadurecida e que sabe que tem o público na palma das mãos. Muitas das músicas fizeram todo mundo pular, mas os destaques vão especialmente para "Next Girl", "Dead and Gone", "Gold On The Ceiling" e, claro, a belíssima "Little Black Submarines" e o grande clássico "Lonely Boy".
Se no primeiro dia a promessa ficou parcialmente cumprida, com o show estático de Flaming Lips, o segundo dia resumiu tudo o que um grande festival deve ter. Bandas revelações, nas presenças de Gary Clark Jr e Alabama Shakes, e shows empolgantes de bandas gigantes como Queens of The Stone Age e The Black Keys.
Terminei o dia completamente bêbado, mas feliz.