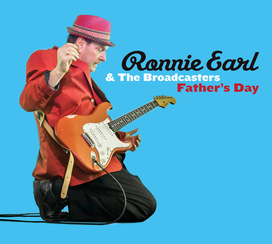 Ronnie Earl, seja na banda Roomful of Blues ou, principalmente, com The Broadcasters, já possui um status consolidado no mundo do blues pelo seu talento e maestria na guitarra, sendo, atualmente, um dos principais expoentes do blues, tanto pelo seu domínio técnico da guitarra quanto pela carreira relevante que construiu desde a década de 80 até hoje, sempre em atividade e lançando materiais inéditos com frequência, seja como artista solo ou em alguma das bandas das quais faz parte.
Apenas um ano depois do álbum Good News - pelo qual ganhou o prêmio de Melhor Guitarrista do blues de 2014, Earl reúne sua banda novamente e volta a contar com a presença especial da vocalista Diane Blue e Michael Ledbetter, parente distante do legendário Leadbelly, para o lançamento de um disco especial em vários sentidos. Father`s Day, nono álbum lançado pela Stony Plain Records, conta com a tradicional intensidade de Earl somada pela primeira vez em décadas a uma seção de metais que mescla o blues com um toque de soul bem interessante. O álbum também carrega um significado especial e biográfico para Earl: é dedicado para o seu pai, Jerry Akos Horvath, sobrevivente do Holocausto, libertado do campo de concentração de Auschwitz e que faleceu no ano passado no dia dos pais. A relação entre Earl e seu pai, Jerry, foi bastante conturbada e cheia de altos e baixos, mas no fim da vida, Earl conseguiu finalmente se entender com seu pai. A faixa que dá título ao álbum, "Father`s Day", retrata exatamente esse processo de alcançar a paz e perdoar. "Can you make peace? Can you be the generous one? Can you forgive? Can you cancel all the debt?", ele canta.
Mesclando covers dos grandes nomes que o influenciaram com faixas originais, Ronnie Earl busca fazer uso de toda a potencialidade de sua banda e dos dois vocalistas, fato comprovado com a presença de apenas uma faixa instrumental, "Moanin" - o que, vindo de alguém que é um exímio compositor de musicais instrumentais, é bastante significativo. Os destaques são inúmeros e o disco começa com uma sequência sensacional, com "It Takes Time", de Otis Rush, seguida da original "Higher Love", um dueto muito bonito com Diane Blue sobre a força do amor e perdão, voltando com Otis Rush para a incrível "Right Place, Wrong Time", com solos de guitarra de tirar o fôlego e mais de sete minutos de blues de primeira qualidade.
Magic Sam está muito bem representado com "What Have I Donde Wrong?", cantada por Diane Blue. O ritmo diminui um pouco, o soul toma conta e fica mais contemplativo/reflexivo em "Givin Up", com um belos solos de saxofone, guitarra e teclado, além de um dos melhores vocais do disco, por Ledbetter. "Every Night About This Time", de Fats Domino, mantém o fluxo correndo. O acerto de contas de "Father`s Day" certamente se destaca pela sua bagagem pessoal e emocional, incorporada durante mais de oito minutos por melodia e música igualmente emocionantes. Mais uma vez Michael Ledbetter se destaca por sua voz intensa.
A parte final também reserva seus destaques. B.B. King está presente com a cover da sua "I Need You So Bad". A bela voz de Diane Blue retorna para "I`ll Take Care Of You" em seus mais de nove minutos de música. Depois de uma nova versão de uma de suas músicas, "Follow Your Heart", acrescentando mais contornos do soul nela, e mais uma de Magic Sam, "All Tour Love", Ronnie Earl e companhia resolvem finalizar com a tradicional gospel "Take My Hand, Precious Lord", de Rev. Thomas A. Dorsey.
Pode-se dizer sem dúvidas que Father`s Day é um álbum de blues completo. Respeita e reverencia o passado com covers executadas excepcionalmente, seguidas de novas canções originais para manter a tradição viva. Ainda por cima, como um bônus, ainda deixa uma boa lição de vida. Como Earl falou na nota de lançamento do disco: "This album is made for my beautiful father, and we came to peace in the end. Don't ever give up on your family and don't quit until the miracle happens."