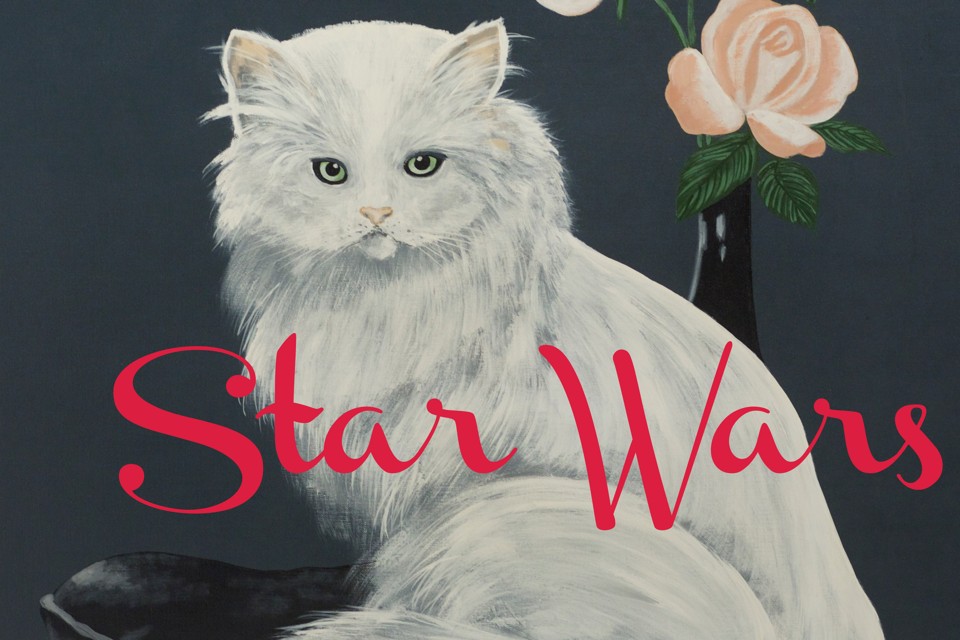 Em 2013, nós vimos como é o espetáculo midiático para o lançamento de um novo álbum. Em todos os lugares, em todas as mídias, sejam elas tradicionais como outdoors ou digitais, como as redes sociais, estavam estampadas propagandas antecipando o novo lançamento de Arcade Fire,
Reflektor
. Foi um sucesso. Também em 2013, uma das grandes lendas da música, David Bowie, anunciava subitamente o seu retorno com um novo álbum,
The Next Day
, gravado totalmente em segredo. O mundo da música ficou em polvorosa na espera do conteúdo do disco. Agora vemos o oposto. Isso porque ontem (19), a banda norte-americana Wilco, uma das maiores do novo milênio, foi além, lançou de surpresa e colocou disponível ontem mesmo para download grátis em seu
site
o nono disco da banda, Star Wars – nenhuma relação com o gato fofinho na capa. Sem um ou dois meses divulgando singles, fazendo programas de TV, nem nada disso. É música e pronto. E o resultado é igualmente renovador.
Uma das bandas mais festejadas das últimas duas décadas, com clássicos como Being There (1996) e Yankee Hotel Foxtrot (2002) na bagagem, Wilco encontrava-se claramente na meia-idade: fazendo discos seguros, mas na zona de conforto. Os três últimos discos (Sky Blue Sky, de 2007, Wilco, de 2009 e The Whole Love, de 2011) são todos bons trabalhos, nos quais a banda, no entanto, não se arrisca tanto, não tenta experimentar novos sons. Com Star Wars, o espírito aventureiro e ambicioso – apesar da estratégia de lançamento indicar o contrário – parecem ter retornado. No decorrer de 11 músicas e pouco mais de trinta e três minutos, Jeff Tweedy e companhia apresentam um som barulhento e construído em novas texturas, com experimentos sonoros muito interessantes. A sonoridade vai desde o glam rock de David Bowie, o psicodélico dos Beatles até o alternativo dos anos noventa. Uma mixórdia que empolga em todos os momentos.
E os indícios estão presentes já no primeiro minuto, na barulhenta faixa instrumental "EKG" e se consolidam na faixa seguinte, "More...", com guitarras intergalácticas em um mar de distorções para todos os lugares do ouvido. "Random Name Generator" é rock guiado por um riff coeso e bem marcado. A banda está funcionando como um organismo musical vivo e cada pedaço das músicas são, com certeza, resultado de um trabalho detalhado de ensaios e pura criatividade musical. "The Joke Explained" segue uma construção lírica dúbia e que soa improvisada e enigmática – talvez a razão da capa do álbum ter sido um gatinho peludo esteja em algum lugar por aí.
"Your Satellite", de longe a mais longa de Star Wars (passa da casa dos cinco minutos), tem uma guitarra que soa como o motor de uma viagem espacial, num ritmo cada vez mais forte e crescente, com o final parecendo uma turbulência durante o percurso. Depois de tanta guitarra, a acústica "Taste The Ceiling" apresenta uma sonoridade mais próxima ao Wilco adulto dos últimos três discos. "Picked Ginger" tem umas reviravoltas bem interessantes e inesperadas, misturando um riff fixo com solos desconcertados. A primeira balada propriamente dita "Where Do I Begin" mostra, como sempre, a proeza de uma banda acostumada a fazer belíssimas baladas, ao menos até, mais uma vez, a música tomar um caminho inesperado em uma efusão de sons – pena que dura pouco. Mais uma vez Wilco opta pelo caminho da surpresa, do inesperado. "Cold Slope" tem um ritmo sensual e dançante bem cadenciado no glam rock dos anos 70. "King of You" serve praticamente como uma sequência, dando seguimento à cadência da faixa anterior. A banda finaliza com a bela "Magnetized", na qual, por um momento, a guitarra é deixada de lado em favor dos teclados e pianos.
Star Wars é recebido com aquele ar atordoado, confuso, mas ao mesmo tempo extasiado, desvendando os mistérios pouco a pouco de um artefato recém-descoberto, afinal, fomos dormir um dia sem nada e acordamos no seguinte com um dos melhores álbuns do ano à nossa disposição.