41. Nação Zumbi - Radiola NZ, Vol. 1
Não tem como uma banda como Nação Zumbi fazer um álbum em que presta homenagem a suas influências e ser ruim. A surpresa (ótima surpresa) aqui é a versão de Nação para "Ashes to Ashes", um dos clássicos de David Bowie. Pelo jeito podemos esperar pelo volume dois.
42. Leo Maier - I Choose the Blues
O blues brasileiro está representado por Leo Maier. E, diga-se de passagem, muito bem representado. Disco de estreia, Leo Maier traz um álbum já com personalidade bem formada em que apresenta seu estilo virtuoso.
Destaque para a divertida "You've Been Drinking Too Much" e a faixa título, "I Choose the Blues".



43. The Reverend Peyton's Big Damn Band - Front Porch Sessions
Não é só a figura do Reverend Peyton que chama a atenção aqui, mas sua voz também é bem potente. Focado principalmente num blues acústico e rural que, como sugere o disco, é ótimo para ouvir na varanda no sítio ou algo assim. Peyton sabe o que está fazendo, seu estilo evoca Charlie Patton, Bukka White, Blind Willie Johnson, David "Honeyboy" Edwards, dentre outros mestres do country blues do Mississippi.
Olha a figura no clipe oficial de "We Deserve a Happy Ending"
44. Cesar Valdomir - Working for The Blues
Pois é, no blog também tem lugar para blues argentino. Isso mesmo. Cesar Valdomir é um argentino tocando blues de primeira, mesclando algumas originais com a maioria de covers. Mas a presença dele na lista foi assegurada mesmo com as versões de "John The Revelator" e "Take the Bitter With The Sweet".
Vale a pena conferir.
45. Samantha Fish - Chills & Fever
O R&B e o Soul de Samantha Fish foi um dos pontos altos do ano, chegando a lembrar um pouco de Amy Whinehouse em alguns momentos. Uma mistura com elementos de rock, soul e blues que resulta num som charmoso e sensual.
Enfim, o disco Everyday Seem Like Murder Here é o resultado de três sessões que McMullan gravou com Wardlow entre 1967 e 1968, quase trinta anos depois que ele tinha parado de tocar. Dessas sessões, 31 faixas estão em qualidade boa para serem usadas no disco. O resultado é um autêntico registro do Delta Blues, entrecortadas por conversações. O estilo de McMullan não mudou nada: parece que está tocando diretamente dos anos 20, 30.
Alguns dos destaques ficam com "Look-A Here Woman Blues", "Goin' Away Mama Blues", "Goin' Where The Chilly Winds Don't Blow" e "Kansas City Blues".
Estamos diante de um registro histórico, que desenterra a memória de apenas um dos talentosos músicos de blues que infelizmente foram engolidos pela história.
47. Johnny Hooker – Coração
Johnny Hooker segue sua carreira com o seu segundo álbum, Coração. Apesar de não beirar a perfeição como o disco de estreia, Coração mantém o estilo provocativo, poético e lírico de Hooker, com algumas belas canções, mesmo com algumas escorregadas pontuais, como se aventurando pelo axé, por exemplo.
48. Taj Mahal & Keb' Mo' – TajMo
A reunião de dois grandes nomes do blues , Taj Mahal e Keb' Mo', para um álbum colaborativo foi uma grande novidade para 2017. Apesar de ter potencial para um álbum ainda melhor, a dupla entrega um álbum com belas músicas, numa corpagem mais comercial.
49. Altered Five Blues Band - Charmed and Dangerous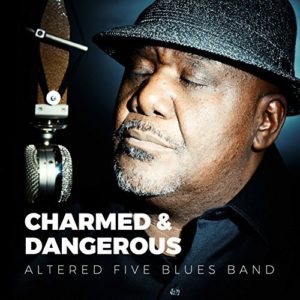 A banda Altered Five Blues Band conduz um blues rock potente no seu quarto lançamento, Charmed and Dangerous. O entrosamento da banda transparece no seu som, que mistura influências do rock com o Delta blues.


50. Harrison Kennedy – Who U Tellin'?
A voz poderosa e rouca de Harrison Kennedy, o som do blues rural e uma gaita intensa e raivosa acompanha todo o disco Who U Tellin'?