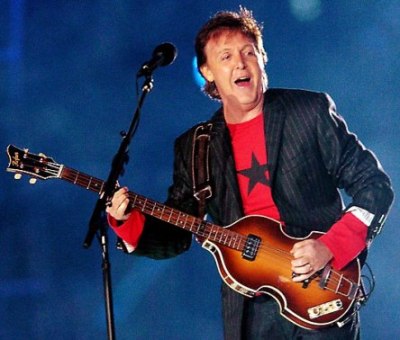 O nome Paul McCartney está marcado na história da música como um dos membros do histórico grupo The Beatles, como todos já sabem. As suas composições e de John Lennon marcaram e continuam a marcar as gerações. Com o fim dos Beatles, em 1970, cada um foi para o seu lado e Paul McCartney acabou por ter a carreira solo mais longa e talvez mais bem sucedida dentre os Beatles, apesar de achar a de John Lennon mais rica, que infelizmente acabou interrompida tragicamente. De qualquer forma, é de sua carreira como artista solo que tem grandes álbuns como Ram, Band on The Run, e, para citar um mais recente, Chaos and Creation in the Backyard, de 2005.
Kisses on The Bottom, seu mais novo trabalho, soa como um disco dos anos cinqüenta e não de um dos maiores compositores de rock todos os tempos. Dá pra ouvir até uns chiados de disco antigo. Mas isso não é um fator negativo. O álbum, como disse o próprio Paul várias vezes, é muito pessoal, uma jornada através das músicas clássicas americanas, principalmente do jazz e alguns blues, que de alguma forma inspiraram Paul como compositor. Algumas delas ele ouvia enquanto criança, com seu pai tocando ao piano. Há apenas duas faixas de composição de Paul. É um álbum ousado e que várias pessoas mais conservadoras não irão curtir por não ser um "rock album". Paul McCartney esteve pensando em fazer algo assim há mais de vinte anos e acabou por decidir que se não o fizesse agora, não o faria nunca.
O nome (Kisses on The Bottom) criou certa polêmica, por ser traduzido como "beijo no traseiro", mas quando se vê a letra de
"I'm Gonna Sit Right Down and Write Myself a Letter"
, se vê que os beijos são no fundo da carta, como beijos de despedida. Ela, inclusive, interpretada por inúmeros nomes da música, dentre eles Frank Sinatra, é a típica faixa de abertura perfeita para um álbum assim. Jazz puro. Já apresenta o ouvinte ao clima suave e confortável que estará presente no decorrer de suas 14 faixas. Não há melhor descrição do que a do próprio Paul "É um álbum que você escuta em casa depois do trabalho, com uma taça de vinho ou uma xícara de chá".
"Home (When Shadows Fall)"
é uma bela balada, bem orquestrada e acompanhada toda no piano, junto com uns solos delicados no violão. O vocal de Paul McCartney está cada vez mais delicado, cada verso mais suave que o outro. Nem todas as músicas, porém, tem a mesma força das outras, até por ser um álbum relativamente com muitas músicas. Mas com certeza cada uma delas tem sua própria história com Paul e é por isso que estão lá, doa a quem doer. Mas todas tem sua parcela de prazer.
"Its Only a Paper Moon"
é bem mais simpática e alegre que as outras, com solos e assovios divertidos pela durante a faixa.
"The Glory of Love"
, uma das mais clássicas do disco, tem sua dignidade preservada nessa versão. Começa só com o baixo, mas aos poucos vai entrando toda a banda. Todos os arranjos muito bem pensados e postos no momento certo.
"Ac-Cent-Tchu-Ate the Positive" e "We Three (My Echo, My Shadow and Me)"
são dois outros belos momentos de músicas muito bem tocadas e arranjadas.
"My Valentine"
, composição do Paul McCartney e com participação de Eric Clapton, é simplesmente linda. A melodia é tocante, e os solos no violão fazem você fechar os olhos e viajar.
"My Very Good Friend the Milkman "
também é bem animada e
"Get Yourself a Better Fool"
, blues com belos solos de guitarra.
"The Inch Worm"
tem a participação de Diana Krall e
"Only Our Hearts"
mostra uma parceria de Paul com Stevie Wonder.
Não é um álbum de rock, nem de jazz, nem de blues. É o álbum de um amante da música prestando homenagem aos seus mestres. É um testamento do passado, que, através de seu legado, transborda de cada uma das músicas. Belo e singelo. Boa jogada, Paul.