Cloud Nothings tem tudo para ser uma das revelações do ano, com o lançamento do seu terceiro álbum, Attack On Memory. O trabalho da banda, comandada por Dylan Baldi e que é a mente por trás do Cloud Nothings, tem chamado atenção pela intensidade e variedade, com um som forte, cru e ao mesmo tempo variado. Dylan Baldi começou gravando ele mesmo algumas músicas, as quais foram para o álbum de estréia Turning On, de 2009, no próprio computador em sua casa. Em 2010, lançou um álbum homônimo, Cloud Nothings, e agora eles, no plural, como uma banda, chegam com o terceiro com muita moral, com Attack On Memory, produzido por Steve Albini, que já trabalhou com Pixies, Nirvana, PJ Harvey, etc.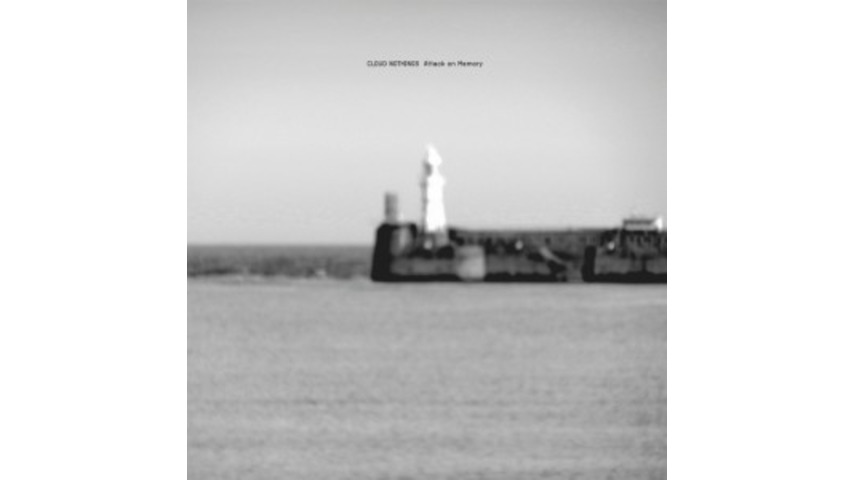 Attack On Memory é um álbum curto, com apenas oito músicas, em pouco mais de meia hora, por letras um tanto simples, mas todas envolvidas por um clima sombrio e depressivo. O próprio Dylan, em entrevista a Pitchfork, disse que não quis fazer um álbum maior, pois se não seria muita depressão em pouco tempo. Mas não é aquela depressão molenga não, é muita porrada, raiva, revolta. Nessa mesma entrevista ele explica o papel de Albini na produção do álbum. Ao contrário de Stephen Malkmus, que elogiou o papel ativo de Beck na produção de Mirror Traffic, Dylan falou que Albini simplesmente ligou os equipamentos e deixou a banda tocar, ficou o tempo inteiro jogando palavras cruzadas no Facebook e que se perguntassem a ele agora como era o som da banda, ele provavelmente não saberia. Mas isso não tira o mérito dele. Alguns produtores só precisam assinar sua marca registrada no trabalho. E Attack On Memory tem o mesmo ambiente que as produções anteriores de Albini, sobretudo In Utero, do Nirvana, como uma bateria mais limpa e clara, simplesmente colocar uma banda junta para tocar, e gravar.
E o álbum começa de forma magistral e de tirar o fôlego. Já dá a impressão de o que vier depois disso é lucro.
"No FutureNo Past"
, A letra simples, desesperançada, repetida várias vezes, vai começando lenta e vai aumentando gradativamente até explodir em desespero e barulho, e Dylan clamando o fim gritando sem futuro sem passado. Depois a coisa mantém nesse nível com
"Wasted Days"
, lembrando os tempos do grunge, só que ela chega quase aos nove minutos e na metade eles começam com uma Jam sensacional, quando achamos que vai ficar nisso até o final, a voz de Dylan Baldi aparece no limite estourando tudo ainda mais um pouco, gritando
"i thought i would be more than this!"
Depois desse combo inicial, o álbum puxa mais para a veia punk, lembrando Male Bonding, porém sem o vocal melódico, com músicas curtas e de certa forma com estrutura mais pop, como são os casos de
"Fall In"
e
"Stay Useless".
"Separation"
é uma faixa instrumental que abre caminho para o outro grande destaque do álbum,
"No Sentiment"
, com letra cética muito boa, voltando para o momento grunge, com muita guitarra e bateria muito pesada.
"no nostalgia, no sentiment, we're over it now, and we were over it then". "Our Plans",
com um refrão muito bom e letra sobre um romance sem esperança e
"Cut You",
puxando um pouco pro shoegaze/punk/pop e com letra bem interessante
"i miss you cause i like damage, i need something i can hurt"
, finalizam o álbum.
Attack On Memory pode ser ao mesmo tempo o terceiro ou o primeiro álbum de Cloud Nothings, você escolhe. Nos dois primeiros, era somente Dylan Baldi gravando umas músicas, colocando idéias aqui e ali. Dessa vez ele está com uma banda completa e melhor do que nunca. Attack On Memory é focado, é forte, é verdadeiro.