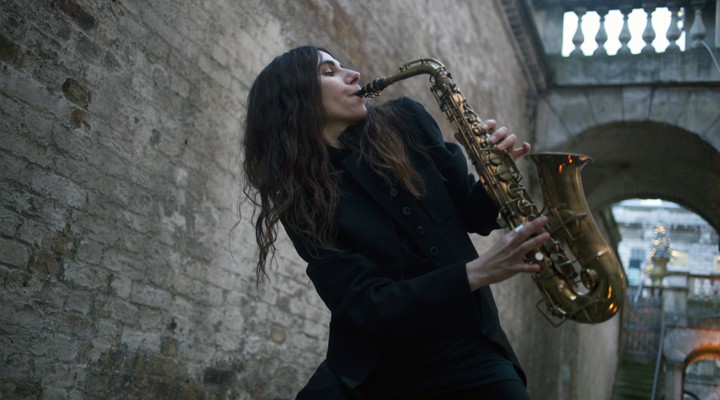 "The Wheel", primeiro single do novo álbum de PJ Harvey, The Hope Six Demolition Project, ganhou um vídeo clipe tão expressivo e poético quanto a própria música. O resultado é fruto da parceria entre PJ Harvey e o fotógrafo e diretor, Seamus Murphy. Mas dessa vez eu gostaria de ir um pouco mais além de simplesmente noticiar sobre o vídeo e refletir sobre o mundo da música. O tema de "The Wheel", que trata do drama dos refugiados, sobretudo as crianças que, diariamente, morrem aos montes uma morte trágica e silenciosa, destaca a falta de ativismo político nos artistas atualmente, sobretudo quando o mundo parece estar de cabeça para baixo. O rock surgiu da contestação e da contracultura; surgiu de Bob Dylan ao dizer que os tempos estão mudando; surgiu da guitarra de Jimi Hendrix ao tocar o hino dos Estados Unidos no Woodstock; surgiu da contestação da insanidade da Guerra do Vietnã; surgiu da revolução sexual de Elvis Presley, Jim Morrison e David Bowie; surgiu do submundo dos marginalizados, dos discriminados; surgiu também das work songs, do blues, do jazz e das vozes de negros e negras corajosos como Nina Simone, Big Bill Broonzy e J. B. Lenoir, para citar alguns. Um negro do sul dos Estados Unidos em meados dos anos vinte, anos trinta, não poderia fazer uma crítica tão aberta e contundente ao sistema social e político como os brancos da classe média que se levantaram junto com o rock a partir da década de cinquenta poderiam fazer. Seria facilmente linchado e ficaria por isso mesmo. Hoje em dia, no entanto, todo esse legado de contestação parece estar desaparecendo enquanto o ativismo político no rock está ficando cada vez mais raro. No Brasil o caso é pior, pois vemos a proliferação de roqueiros reacionários e o ativismo político de direita, o que cria o fenômeno incrível de que o funk, tão criticado e discriminado socialmente, tem um elemento de contestação muito maior do que o rock nacional atual.
Na música, exemplos de ativismo político podem ser contados no dedo, como o ativismo de Neil Young e bandas como Pearl Jam, em nome do meio ambiente; Manic Street Preachers também sempre se posicionaram criticamente em relação a temas como desigualdade e justiça sociais. Também poderiam ser incluídas nessa lista bandas como U2 e Rage Against The Machine, apesar de ter durado pouco. Mas dificilmente a lista se prolonga muito mais e é por isso que "The Wheel" e PJ Harvey surgiram como uma brisa que possa dar uma alavancada nesse mundo apático. The Hope Six Demolition Project é fruto de uma série de viagens que Harvey fez para locais que são ou estiveram recentemente em zona de conflito, como Kosovo e Afeganistão. "The Wheel" é a primeira versão desse olhar poético de Harvey sobre os desastres que ocorrem nesses lugares remotos e isolados, que faz com que o sofrimento dos outros sejam invisíveis aos olhos do restante do mundo. Para deixar o cenário mais impactante, PJ Harvey utiliza a crise de refugiados na Europa e a referência mundial da imagem do garoto sírio morto na praia na Turquia no ano passado e afirma secamente na letra: "Hey little children don't disappear - (I heard it was 28,000)". O clipe reforça esse sentimento de desolação, com balanços enferrujados sem nenhuma criança brincando com eles e imagens de campos de refugiados. O rock tem e sempre teve um imenso poder mobilizador que parece estar sendo subutilizado pelas novas gerações imersas no mundo digital, que, embora tenha acesso a muito mais informação, parece não ter tempo de processá-las e ressignificá-las de forma adequada para uma atuação mais ativa e consciente no mundo. Claro que ninguém está obrigado a ser ativista 24h/7d, mas é importante manter uma relação direta em relação ao mundo em que vive. Confira abaixo a letra e o vídeo de "The Wheel", de PJ Harvey.
A revolving wheel of metal chairs
Hung on chains, squealing
Four little children flying out
A blind man sings in Arabic
Hey little children don't disappear
Lost upon a revolving wheel
Now you see them, now you don't
Children vanish 'hind vehicle
Now you see them, now you don't
Faces, limbs, a bouncing skull
Hey little children don't disappear
All that's left after a year
A faded face, the trace of an ear
Tied to the government building
8,000 sun-bleached photographs
Hey little children don't disappear
Lost upon a revolving wheel
All that's left after a year
A faded face, the trace of an ear
And watch them fade out
And watch them fade out...