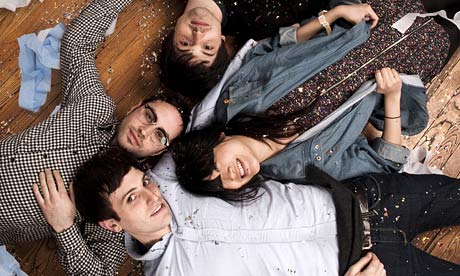 O post de hoje é para uma banda com um nome bem não convencional.
The Pains of Being Pure At Heart.
Não é o nome de uma música, nem de um album. É da banda mesmo, que lançou esse ano o ótimo Belong. Esse é o segundo álbum desses jovens músicos de Nova Iorque, que fazem um som bem peculiar. Há neles um pouco das vozes melódicas de Teenage Fanclub e das pinturas guitarrísticas de My Blood Valentine.
O primeiro álbum, homônimo, lançado em 2009, é bem mais underground no sentido da produção em si. Em Belong, eles se juntaram com os produtores Flood e Alan Moulder, que produziram várias bandas clássicas dos anos 90, como Smashing Pumpkins, U2, PJ Harvey, dentre outros. O resultado foi o ingrediente que estava faltando para a banda estourar. O estilo das músicas do primeiro e segundo álbum é parecido. Belong não é aquela sequência divisora de águas em relação ao som, mas a carreira deles nunca mais será a mesma. A impressão que dá é que em Belong as composições foram mais pensadas e planejadas. Não há lacunas, o álbum é completo e forte e com o som mais limpo, ficou possível perceber detalhes e sonoridades que passavam despercebidos no primeiro álbum.
As três primeiras músicas são de tirar o fôlego. "Belong", a faixa de abertura, já mostra o peso das guitarras cruzando com o vocal melodioso de Kip Berman. "Heavens Gonna Happen Now" continua o que foi introduzido na antecessora e acrescenta um refrão que marca. "Heart In Your Heartbreak", tem a batida mais animadinha do álbum, mas o vocal meio que distorcido ainda transborda com aquela tristeza profunda, mas disfarçada, sobretudo nos finais dos versos, antes do refrão, que inclusive também de se cantar junto já na primeira ouvida. "Even in Dreams" é linda, um dos pontos altos do álbum, com seu refrão ao mesmo tempo majestoso e pesado. "Too Tough" é talvez o ponto mais alto do álbum, com Kip Merman quase desabando através do refrão: "You're too tough to say that it's all to much"
Belong é uma agradabilíssima surpresa dessa banda que está apenas começando agora e que com certeza ainda tem muito a mostrar.