Finalmente foi revelado o conteúdo do álbum mais curioso do ano. Metallica & Lou Reed, com o álbum Lulu, que já havia liberado uma faixa inteira,
"The View".
Como aconteceu com The Whole Love, do Wilco, que vazou após a transmissão pela internet, LuLu já está na rede mesmo tendo seu lançamento apenas para 31 de outubro. O Projeto começou a ser concebido quando Lou Reed e Metallica tocaram juntos no Rock and Roll Hall Of Fame, em 2009. Certamente seria uma mistura no mínimo interessante, a imprevisibilidade e poesia insana, underground de Lou Reed com o peso avassalador do Metallica juntos num mesmo disco. Talvez tenha sido só pelo marketing, mas o furor com que Lou Reed e Metallica comentavam sobre o álbum nas mídias, aumentava ainda mais a expectativa, chegando Reed a dizer que foi o melhor trabalho de sua carreira.
Lulu é um conceitual disco duplo de heavymetal-progressivo-indie-art-rock com canções compostas para a peças escritas pelo alemão Frank Wedenkin, que, como o próprio teaser anunciando o álbum diz, tem muito sexo, ganância, amor, violência, luxúria, e outras temáticas mais ambientadas ao trabalho de Lou Reed, sombrio e underground do que com Metallica.
Antes de falar sobre algumas músicas destaque do álbum, vale a pena falar que o estilo conceitual, poético, profano e teatral do Lulu demanda muito do ouvinte. Não é um álbum fácil, delicioso e confortante. É desconfortável, tenso, sombrio, angustiante, casando-se muito bem com as temáticas. Se escolher escutar o álbum casualmente, fazendo alguma outra tarefa, ou no carro, melhor nem seguir adiante. É preferível escutá-lo num momento onde possa se concentrar e de preferência busque na internet as
letras das músicas
para ouvi-las acompanhando. Só assim você pode tirar tudo o que Lulu oferece.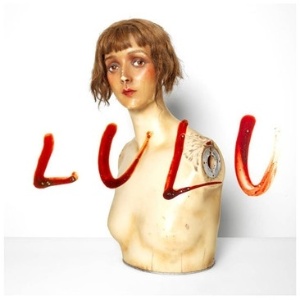 O primeiro disco começa bem bom, com
"Brandenburg Gate",
já mostrando o peso conhecido de Metallica, a voz desarticulada de Lou Reed, apresentando a garota da cidade pequena, falando de bebidas e prostitutas, e James Hetfield fazendo backing vocals.
"I'm just a small town girl who's gonna give life a whirl".
Depois segue para a já conhecida
"The View",
como uma ode à juventude e sua inconsciência, impetuosidade e senso autodestrutivo e inconseqüente. Muito boa.
"Pumping Blood"
é o mais puro resultado do encontro do indie de Lou Reed com o metal de Metallica, todas as variações inesperadas e noise guitar do indie com os riffs e bateria marcante do metal. A letra também é sensacional, praticamente descrevendo o assassinato, musicalmente formando um casamento perfeito, com toda a tensão, desespero e desconstrução imaginativas da cena. Em alguns momentos lembra Velvet Underground, acrescentando duas mil toneladas
. "Mistress Dread"
puxa mais para o metal, praticamente o Master of Puppets do Metallica com Lou Reed recitando dessincronizado. Talvez por isso não tenha me cativado como as outras. Com
"Iced Honey",
até então a faixa com as estruturas mais tradicionais, seguindo um padrão, a coisa volta a melhorar. Bem direta, coisa pouco vista em Lulu
. "Cheat on Me"
é uma exagerada faixa de despedida progressiva de onze minutos, bem aquelas loucuras do Lou Reed do tempo de Velvet Underground. Sendo que o Velvet era ainda mais louco. Abre caminho para a parte mais progressiva do álbum, com músicas mais longas.
"Frustration"

inicia o segundo disco com grande riff e Lou Reed destilando poesia, como o primeiro. Inclusive com um diálogo muito interessante da bateria de Lars com Reed. Novamente muito boas as variações, fugindo de um heavy metal para um som atmosférico, só com a voz de Lou Reed e um teclado para depois voltar com toda a fúria dos riffs de James e espancamento de Lars.

"Little Dog"

é a mais fraca do álbum, uma mórbida canção de oito minutos somente Reed e o violão com microfonia de guitarras no fundo e uma letra não muito atrativa. Microfonia essa que segue em

"Dragon",

que leva três minutos para começar a ficar interessante, luxúria, sexo e uma música instigante. Nada mais a se pedir. Solos perfeccionistas e corretos do metal dão lugar aqui barulhos aleatórios do indie. Apesar do tamanho e da demora para empolgar, a música é muito boa.

À essa altura Reed questiona: "Are we both dead now?".

Quase, ainda tem

"Junior Dad"

mais uma progressiva, com seus cansativos dezenove minutos.
No geral, Lulu é um grande álbum de dois grandes artistas, porém, para ser apreciado por uma parcela dos dois grandes públicos interessados. Lulu está mais para um álbum de Lou Reed com participação do Metallica do que o contrário, já que os fãs de metal não são muito conhecidos pela sua tolerância por novos sons e variações. Já os fãs de Lou Reed estão sempre preparados para alguma loucura nova desse ícone do rock. Estes estão mais felizes. Brutal.