Uma banda formada por um trio no qual todos cantam e compõem. Essa é The Stepkids composta por Jeff Gitelman (guitarra), Tim Walsh (bateria) e Dan Edinberg (baixo e teclados). Essa máxima de cooperação é o que dita o rumo do homônimo álbum de estréia da banda. Cada um de seus membros participaram de bandas de apoio de alguns artistas renomados, como 50 Cent, Lauryn Hill, Alicia Keys, dentre outros. A liberdade criativa da banda é traduzida no som bastante peculiar, viajando pelo soul, jazz, folk, indie, tudo isso com um tom bem moderno de arranjos psicodélicos. A unidade do The Stepkids dá pra ser sentida no depoimento do baterista Tim Walsh "todos nós escrevemos e todos nós cantamos, qualquer letra, qualquer melodia, qualquer idéia poderia ter sido feita por qualquer um de nós".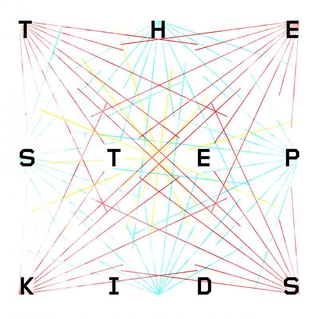 Essa mixórdia única fica clara logo na faixa de abertura, após uma rápida introdução, "Brain Ninja", uma "desconstrução" quase anárquica, que em momentos chega a parecer bastante com David Bowie da trilogia de Berlin, acrescentando mais alguns toques eletrônicos. Mesmo assim, ela pode ser considerada a mais fraca do álbum, que cresce e cresce a cada faixa. "Suburban Dream" é o melhor exemplo de soul psicodélico, com um belo ritmo e intensa melodia, além de teclados espaciais. Ela abre caminho para uma das mais fortes do álbum, "Shadows on Behalf", já conquista na primeira ouvida, com uma grande melodia que vai crescendo cada vez mais. Nela também dá pra ver a química entre os vocalistas, cada um cantando partes diferentes. Novamente, o ambiente entorpecido dá um charme a mais. "Legend In My Own Mind" é uma balada bem soul music, bem sensual, ótimos trabalhos vocais nela, mais uma vez contendo vários variações de vocalistas. "Santos and Ken" chega a lembrar TV On The Radio, em seus momentos mais black music. "La La" é outro ponto mágico do álbum, com sua melodia fantástica e arranjos surreais. "Cup Half Full" é mais outra faixa digna de nota, meio como um blues psicodélico.
O clima psicodélico que permeia o álbum é transmitido também à apresentação ao vivo da banda. Com muitas luzes e cores, lembrando por vezes os shows históricos de Pink Floyd da era de Syd Barret, como no vídeo abaixo.
Curiosamente, o ruim em The Stepkids é exatamente por que ele é muito curto, com apenas dez faixas, das quais duas não contam muito, em trinta e um minutos. Em alguns momentos eles poderiam ter estendido mais um pouco as experimentações em jams supersônicas espaciais. Escutar The Stepkids é como uma confortável e agradável viagem intergaláctica, curta demais, e que quando chega ao seu destino, só se pensa na hora de ter mais outra dose dessa viagem.